We provide a complete range of services beginning with:
• Design of mechanical systems Design
• Design of electrical control systems
• Design of automation control software (PLC) and the user interface (HMI)
• Machining and Fabrication machine parts
• Hardening, anodizing, Nickel plating, Zinc plating, and painting
• Assembling the mechanical parts, hydraulic systems, pneumatic systems and specialty tools
• Assembling the electric systems and connecting the electrical wire to the electrical control panel
Delivery and installation to customers
What is machine automation?
Industrial automation systems customized to the customers specifications help to streamline the production process and increase the production volume. Each production function can be adjusted according to the users specific requirements. The systems can be fully or semi-automated, depending on the requirements of production, as explained below:
Fully automated systems are for systems that input of raw material and output the finished product without needing any external action. It eliminates the need for personnel in the production process.
Semi-automated systems require joint operation between the automated system and an operator. The operator manually operates some part of the system, usually by commands on touch screen (HMI) externally from the system.
Automatic machines are categorized as follows:
Assembly Machines automate the production process and production line. These machines offer the highest degree of customization as well as the most efficient method of mass production.
Inspection machines inspect the quality during the assembling of the product and well as inspect the precision of the product and can guarantee that each part is exact in form and size and is not missing any component.
Integrated process machines connect between differing systems to streamline the processes and are necessary for seamless production. This machines can perform a variety of tasks, including sorting and tracking for smooth operation between the various processes of production.
Testing machines are for quality control. They test the quality of materials as they travel through each production sequence, including testing the production sequence itself.
Designing production systems and automation machinery according to customer specifications
We have experience in creating custom automation systems and high standard advanced control systems. We've been building a reputation for reliability and durability of our products since 2001. Our skilled engineers are innovative in designing modern industrial automation systems and engineering electrical control systems that match your specifications. We design electrical instrumentation to meet your usage needs according to your specifications. We select technology for each step of production, though differing in type and process, is integrated into a complete system.
We work to save your costs and time, keeping to our high standards and maintaining safety for the user. We continually bring new and developing innovations to the table in order to meet the unique production needs of customers.
Our turn-key automation systems includes position and motion control, feeding parts into the system, conveyor and sorting systems. We continually develop our engineering capabilities in order to provide the complete range of production systems: production systems, platform systems, Programmable Logic Controller, control systems, testing and adjusting the operation of the system so it's in perfect working order before it's used for production. We have quality control measuring in the assembling of our machines, including laser measurement and a visual inspection system which is customized to your specifications. Security features are included in every system we build and our thoughtful design makes the equipment easy to maintain and uncomplicated if adjustments need to made if your needs change. We are committed to serving customers with high quality design solution, at a reasonable price, within the promised timeline.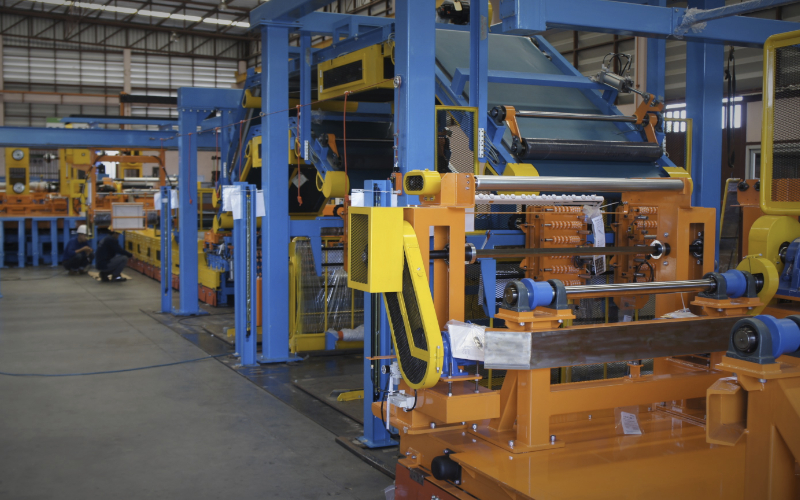 Design and automated control systems
Industrial systems and intelligent automation that can be resized according to what you custom, will increase efficiency and dependability of production. By integrating automation with convenience for factories, it will saves facility space and increase efficiency of the control process as well as the operator. This will increase the quality and give flexibility in the production process and provides an advantage, like improving the quality of products, accuracy of data, and safety. We are committed to creating exhaustive tools and provide solutions to our customers that benefit and and advance and continue to modernize industry automation.